Day by Day Growth of Newborn Bunnies
On August 22nd, 1999 I got a call from a girl who informed me her bunny had a baby an she didn't know what to do. She said there was only 1 baby and she didn't know when it was born since she only checked on the bunnies every 3 days or so. My husband and I went over saw the bunny's cage was sitting up on top of their bar. I went around the bar and found 2 baby bunnies laying on the concrete floor (about 3 feet below the bar) that had managed to crawl out through the wire cage and fall off the bar. The babies were very cold and I was amazed to discover they were alive. The 4th baby was laying on the wire cage bottom with its little legs hanging through. I was infuriated at the situation since I had given the owners information on proper rabbit care and they had ignored everything. I took the mama and the babies and have them all at home with me. 1 baby died that night of a broken back but the other 3 are now thriving and will be needing a home in about 7 weeks.
Enjoy the pictures!!! ()
Baby Bunnies - Days 17 through 21
I would like to thank K. C. Gerth from Petbunny for making me this adorable background
Babies Days 20 and 21...they are way to cute to only pick a few!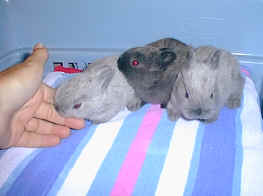 Baby Bunnies Day 17... These babies can't get enough of kissing everyone in sight!