Sugar's Page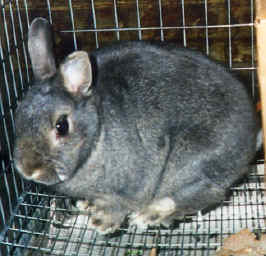 Sugar is a gray Netherlands Dwarf who lives with the Hague family in Des Plaines, Illinois. She was born on January 3, 1995, one of a litter of four. Her parents belonged to two teachers at the school where our younger daughter took band. We saw them carrying in a cage of baby bunnies one day, and it was love at first sight. She was six weeks old when we brought her home.
Sugar (also known as Bunzini, because she flies through the air) has her cage in the living room, the center of attention in our small house. Her runs are supervised, as she loves to explore and chew on everything. She loves to be petted, but doesn't want to be held much. She is glad when spring comes, because she can expect fresh dandelion greens that dad brings home for her. We also have a Siberian hamster named Tolstoy (AKA The Biter). Sugar normally ignores him, but when we pay attention to him she gets active in her cage, as if she's trying to say, "Hey, look at me!" No reason to be jealous, Sugar Pie, Honey Bun, you know that we love you!
Email the Hague's by clicking here.