Clyde's Page
Adopted 1/8/2000 - Died 7/10/2001
On January 8th, 2000, my husband Marvin and I set off on a journey. We left our home in Ohio and headed towards Michigan. Our first stop along the way was to the home of a woman named Linda who is with the Michigan Rabbit Rescue. I was going there to pick up a bunny named Thunder that was the son of my Big Bunny and Big Mama. Once I got there, I fell in love with a pair of un-named bunnies. 1 was a male Flemish Giant that we now call Clyde (short for Clydesdale), and a beautiful black shiny bunny now named Onyx
These pictures show Clyde on our way home. You can click on any picture to see a full size image.
| | | |
| --- | --- | --- |
| | | |
| Clyde resting in the back of the car | Clyde resting on my knee | Me holding Clyde at one of our stops along our trip |
These 2 pictures were taken at the home of one of our Petbunny friends. The picture on the left is my husband Marvin holding Clyde and the one on the right shows Clyde with a baby bunny named Rexxus
| | |
| --- | --- |
| | |
Clyde is an absolute sweetheart and we call him our big lap bunny. Clyde loves to sit on the couch with us and insists on getting up in our laps. He also follows us around the house and is constantly under foot. We have no idea how old Clyde is but he was living in someones back yard and the owners had stopped feeding him so a neighbor started to take care of him and Onyx. As I understand it, the owners told the neighbor one day to just take them and the bunnies were turned over to a sanctuary that did not handle rabbits. Michigan Rabbit Rescue was contacted and these bunnies had only made it to Linda's house about 1 hour before I did. It turns out that Onyx was spayed but Clyde was not neutered yet. We had Clyde neutered and he then began to live with Caly and they have free run of the entire house.
| | | |
| --- | --- | --- |
| | | |
| Is this a relaxed bunny or what??? | Clyde in Marvin's lap watching TV | When Clyde is tired, he flops out on his side and closes his eyes to go to sleep |
Clyde is an absolute chocolate thief! He sniffs it out no matter where it is. In the pictures below, I was putting together goody bags for my daughters Bat-Mitzvah and had the candy laying out in my room. Clyde came in and buried his head in the bag and started flinging hershey's kisses everywhere taking bites from each. Clyde also likes to get into the garbage and take out anything he can find that the kids have left behind!
Below you can see Clyde getting into the garbage looking for treats and then checking out the laundry to make sure we did it all correctly!
Clyde in a trance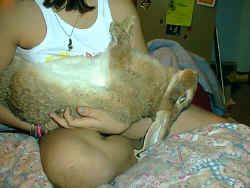 Clyde is an amazing bunny with the greatest personality I have ever seen. He loves people and loves to just sit down in the middle of a big group of people and beg for attention. Any time Clyde here's a bag crinkle, he assumes its a treat for him and comes running over. We of course then give him something. He has us very well trained! Clyde has gone to the pet store with me, to a humane society meeting and camping. People everywhere fall in love with him and just can't believe how big and sweet he is. Wanna see more pictures of Clyde? If so, Click Here
7/10/01 Disaster struck around 9:30pm. I was sitting in my bedroom (still recovering from a spinal fusion and barely able to move) when I heard a screaming noise over and over again. I got up thinking it was my son but it didn't sound like him. I quickly realized that the noise was coming from under my bed. Clyde was laying there just screaming over and over. I pulled him out and rubbed him to try to get him to stop and he started breathing very slowly and you could see his breathing was very labored. I still can't drive because of the surgery and I wasn't supposed to pick him up but I did and yelled for my husband and told my husband to please please please take him to the emergency animal clinic. I kissed Clyde goodbye and my husband left with him. I really didn't think he would even make it to the hospital.
I called Marvin's cell phone and Clyde made it there which gave me some hope that they could help him. About 45 minutes later Marvin called me to say he was gone. The vet said it was a pulmonary edema and his lungs were filled with fluid. I just don't understand because he wasn't sick at all. He jumped up on my bed begging for treats as recently as yesterday and never showed any signs of being sick. Marvin brought Clyde home from the vets so we could say our goodbye's and let Calypso (Caly) and our cat Cuddles say goodbye to him also. I sat and held him and my husband and I cried for a long time. I trimmed off some of his fur to keep. I am utterly devastated!
I took Clyde to my regular vet had a necropsy done to try to find the cause of his death. My vet said that he did have some fluid in his lungs but there will still some pockets of air and the tissue was spongy as it should be. His heart and all other organs looked fine. There were no signs of infection, cancer or any abnormalities. The vet feels that he most likely had a brain aneurisms and had a seizure which is what I saw when he was screaming out. Loosing him so suddenly and with no advanced warning was just so shocking. We all miss him terribly and know that there is no bunny that can ever replace him.
My final pictures of Clyde taken on 7/3/01 and 7/6/01: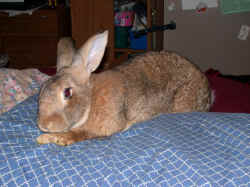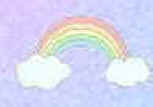 Goodnight my big boy, you will forever be in my heart.